At Heart and Vascular Care, P.A., we know that visiting your doctor can be sometimes stressful at times. We strive to make each patient who walks through our doors feel like family. Our office is designed to create a warm, inviting and friendly environment where patients are comfortable and relaxed before and after seeing our providers. Our goal is to create successful medical outcomes and friendly human interactions for our patients, thus creating a lasting and caring relationship.
We understand that you have a choice of cardiology and vascular providers in the Orlando area, and we appreciate your consideration. At Heart and Vascular Care, P.A., we can assure you that you'll feel confident in our ability to meet all of your expectations. Our providers are highly trained in the prevention, diagnosis and treatment of cardiovascular disease and related conditions. We work closely with referring physicians, patients and their families in coordinating treatment plans that are specific to a patient's individual disorders and personal needs.


Pradip B. Baiju, MD, FACC, FSCAI
Interventional Cardiologist & Endovascular Specialist
Heart and Vascular Care, PA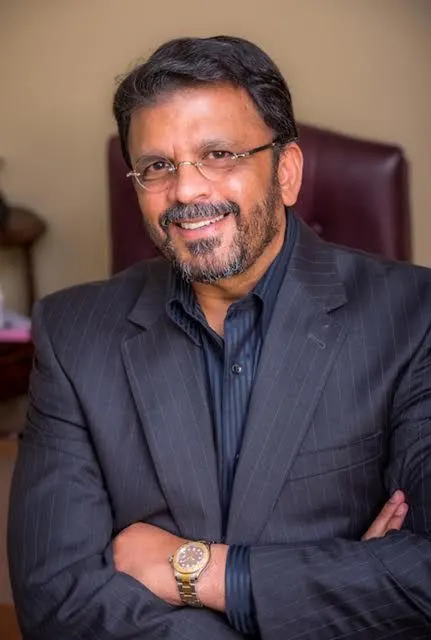 After completing his basic and postgraduate medical degree in India, Dr. Baiju completed his internal medicine residency at Wayne State University in Detroit and his cardiovascular and interventional cardiology fellowship at Michigan State University.
Dr. Baiju has more than 30 years of experience and is a double board-certified interventional cardiovascular specialist practicing in the greater Orlando area since 2004. He is a Fellow of the American College of Cardiology (FACC) and the Society of Cardiac Angiography and Interventions (FSCAI).
Dr. Baiju is well liked by his patients for his compassionate bedside manner and the time that he spends with them. He takes a lot of pride in the work that he does and feels that it is of great importance that every patient leave his office with all of their questions answered.
Dr. Baiju's professional background, training and compassion toward his patients set him apart from others. His non-surgical procedure skills are precise and renowned. He is motivated by his commitment to personalized medicine and takes the time to get to know all of his patients on an individual level.
Peripheral Artery Disease (PAD) prevention is one of Dr. Baiju's passions and his primary area of expertise. He is skilled in non-surgical catheterization procedures directed toward preventing leg amputations in patients with severe limb-threatening PAD. His repertoire also includes the diagnosis and management of many heart-related conditions.
Dr. Baiju believes in the power of education and is actively involved in campaigns promoting the importance of heart and vascular health, as well as educating medical students and residents on the heart and vascular diseases. He also conducts a completely free clinic once a month for patients whose care may be limited by lack of insurance or financial difficulties.
In his spare time, Dr. Baiju enjoys spending time with his wife, Jaisy, and their two children, Kannan and Madhavi.
Favorite Quotes:
"Walking is when your legs move forward and your mind flutters around you like a bird."
"He who limps, is still walking"

Farshid Daneshvar, MD, FACC, FSCAI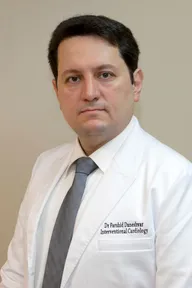 Interventional Cardiologist & Endovascular Specialist
Heart and Vascular Care, PA
Dr. Farshid Daneshvar is board certified in Interventional Cardiology, Cardiovascular Disease and Internal Medicine. He also is diplomat and board certified by the American Society of Echocardiography and the American Society of Nuclear Cardiology. All his postgraduate training included Interventional Cardiology Fellowship, Cardiology Fellowship, Chief Medical Residency, and Internal Medicine Residency, at Northwell Health at Staten Island University Hospital in Staten Island, New York. He served as Teaching Associate at Hofstra School of Medicine, New York, where he instructed internal medicine residents and medical students. Additionally, he was the Simulation Lab Instructor for internal medicine/emergency medicine residents at Staten Island University Hospital. Dr. Daneshvar has presented and published multiple research projects at local, national, and international conferences and journals. He also is a Master's Candidate for Healthcare Management at Johns Hopkins University.

Robyn Kempf, PA-C, MSPAS, MPH
Physician Assistant specializing in Cardiology, Vein and Vascular Care
Heart and Vascular Care, PA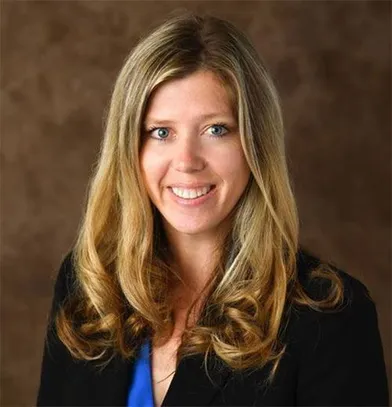 Robyn Kempf is a Physician Assistant that has been specializing in Cardiology and Vascular Care since graduating in 2010. She has worked in Vascular Surgery, Cardiovascular Surgery, and Critical Care. Over her career, she has assisted and performed hundreds of venous procedures including Radiofrequency Ablation, Microphlebectomy, Sclerotherapy, and Endoscopic Vein Harvesting. Prior to attending Physician Assistant school, she worked in a Cardiac Catheterization/Interventional Radiology lab as a Radiologic Technologist. This along with her schooling and work experience has provided her with a wealth of knowledge in the diagnosis and treatment of cardiac, vascular, an venous disease. While working in Critical Care she had the opportunity to care for post operative cardiac surgery patients including Heart Transplant, LVAD patients, ECMO patients. This experience has provided a strong foundation for her Cardiology and Vascular practice.