What is Peripheral Artery Disease (PAD)?
Peripheral Artery Disease (PAD) is a disease that affects more than 8 million Americans. PAD occurs when the arteries in the legs become hardened or clogged with plaque. Progressive plaque buildup in the arteries of the legs will lead to reduced blood flow and poor circulation.
PAD is a potentially disabling and fatal disease. Patients with PAD are likely to have hardened and narrowed arteries to the heart and brain. This is why patients with PAD have a 2-6 times greater chance of death from heart attack or stroke. Progressive PAD can lead to non-healing ulcers, gangrene and amputations.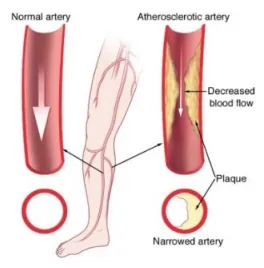 Photo courtesy of Centers for Disease Control and Prevention
Who is at Risk?
The chance of having PAD increases as you get older. People over the age of 50 have a higher risk for PAD, but the risk is increased if you have any additional risk factors: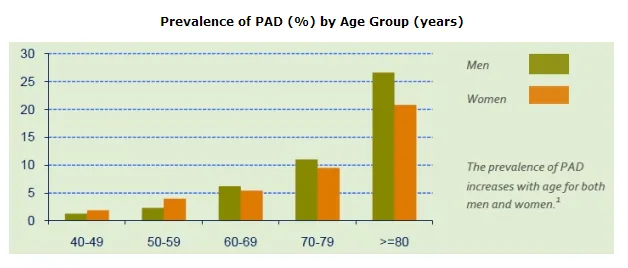 Photo from Center for Disease Control and Prevention
Who should be screened for PAD?
Patients with atherosclerotic coronary, carotid or renal artery disease
Patients with abnormal lower extremity pulse examination
Patients with leg symptoms with exertion
Claudication
Ischemic rest pain
Patients over the age of 70
Patients age 50 to 69 with a history of smoking or diabetes
Patients less than 50 years old with diabetes and one other risk factor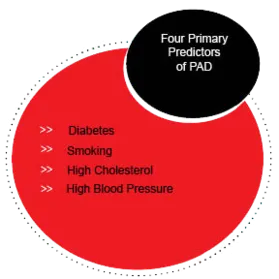 How is PAD detected?
The most common symptoms of PAD include one or more of the following:
Cramps, tiredness or pain in your legs, thighs or buttocks that happens when you walk but that goes away when you rest. This is called claudication.
Foot or toe pain at rest that often disturbs your sleep.
Skin wounds or ulcers on your feet or toes that are slow to heal, or do not heal.
What are common tests used to diagnosis PAD?
The Ankle Brachial Index (ABI) screening test is the most common used test to diagnose PAD. It uses sound waves to find if there is reduced blood flow in the arteries. It also compares the blood pressure in your ankles with the blood pressure in your arms.
PAD can also be diagnosed by other tests that measure blood pressures and oxygen levels:
Toe Brachial Index
TCP02
Arterial Doppler
CT angiography
MR angiography
Abdominal angiography with runoff
How is PAD treated?
PAD can be treated with lifestyle changes, medicines and revascularization procedures, if needed.
Life-style Modification:
Quit smoking
Monitor your blood pressure
Monitor your cholesterol
Manage your blood glucose
Follow a healthy eating plan
Get regular exercise- walking for 30 minutes at least 3 or 4 times a week
For most patients with PAD, these life-style modifications, may be enough to slow down the disease and even improve symptoms. You will need the help of an endovascular specialist (like Dr. Baiju) to monitor the progress of the disease. If there's no relief–the specialist will perform a minimally invasive procedure to open the clogged arteries and restore blood flow. These procedures will not only relieve symptoms but also prevent disabling amputations.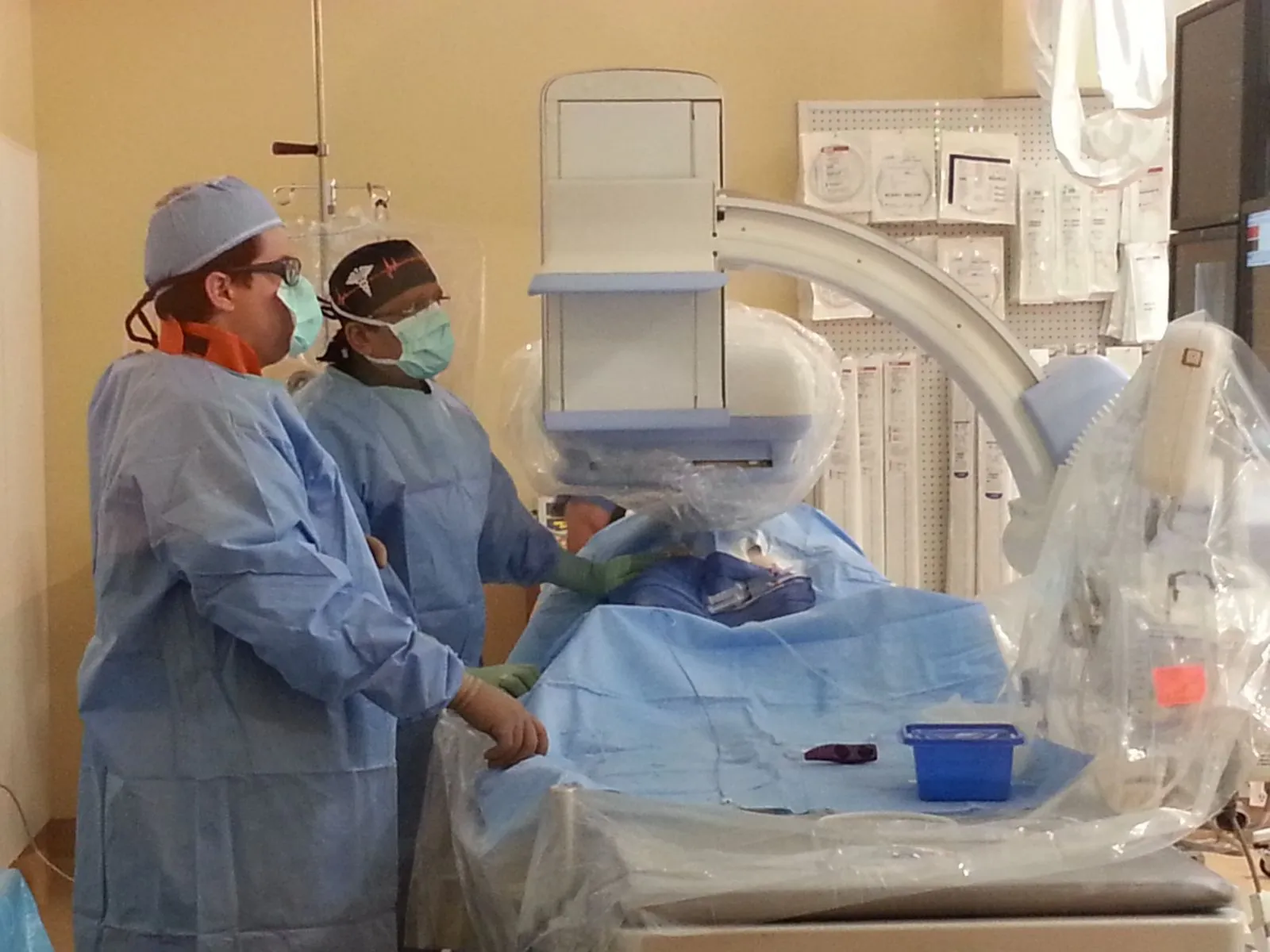 A Catheterization procedure is performed by Dr. Baiju in an Outpatient Catheterization Lab. These minimally invasive procedures can be done in a timely manner, and most complex interventions performed within the same day. Conscious sedation is given so that the patients are relaxed while Dr. Baiju is working. Most patients have no memory of the procedures, and are able to resume their daily activities almost immediately.
We assign each patient a procedure coordinator to assist them with every step of the process to make it as easy as possible, from scheduling the procedure, to getting lab work, all the way to getting to and from the procedure itself.
Are you interested in learning more about peripheral artery disease?
Call Heart and Vascular Care, PA at (407) 730-8970 to learn more today!